Accession to the EU: 1995
Accession to the Council of Europe: 1949
Surface area: 450 000 km2
Population: 10,33 million inhabitants (2020)
Capital city: Stockholm
(1,7 Million inhabitants)
Official languages: Swedish
Listen to Swedish
Currency: Swedish Krona
Political system: Constitutional Monarchy
Head of state: King Carl XVI Gustav, since 1973
Head of government: Ulf Kristersson, was elected Prime Minister on 17 October 2022
International code: + 46
National holiday: June 6
The Swedish members of the European Parliament
History
Stockholm
Alfred Nobel
Sainte Lucia Celebration
Did you know?
You might also want to read
History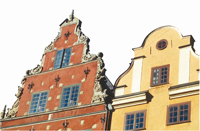 The Kalmar Union (which included Sweden, Denmark and Norway) led to frequent conflicts between Denmark and Sweden. During the 16th century, Sweden brought this union to an end and regained its independence. It conquered coastal territory along the Baltic Sea, including Finland and Estonia. In the 18th century however, it lost these territories to Russia.
Old town, Stockholm © www.imagebank.sweden.se
1809 Charles XIII reached a peace agreement with Russia, Denmark and France. Implementing a pro-Napoleonic policy, he chose Bernadotte as his crown prince. This Marshall of Napoleon encouraged the economic, political and cultural expansion of Sweden.
1814 Sweden adopts a policy of neutrality, its last military adventure being its personal union with Norway.
1905 Sweden and Norway separate and become independent.
1911 Adoption of universal suffrage for men. This is extended to women in 1921.
1914-1918 / 1939-1945 Sweden remains neutral during both world wars.
1932 The Social Democrats come to power, a position they will continue to hold for several decades, combining economic intervention and the Welfare State in a system which becomes known as the "Swedish model".
1949 Sweden joins the Council of Europe, but refuses to join NATO.
1973 Death of Gustav VI Adolf. His grandson, Carl XVI Gustav, becomes the new monarch.
1977 Beginning of the crisis focused around the "Swedish model": austerity measures are adopted which lead to a partial dismantling of the Welfare State.
1986 Assassination of Prime Minister Olof Palme.
1995 Sweden joins the European Union.
2002 The parliamentary elections see the Social Democrats and their Prime Minister Göran Persson being returned to office.
2003 Four days after the assassination of the Foreign Affairs Minister Anna Lindh, the Swedes vote against the adoption of the single currency in a referendum.
2006 The coalition of the center-right parties wins the elections. Fredrick Reinfeldt becomes prime minister.
2010 Fredrick Reinfeldt stays as prime minister, but his governments loses its majority.
Stockholm
Alfred Nobel
Sainte Lucia Celebration
Did you know?
You might also want to read