Accession to the EU: 1957 founder member
Accession to the Council of Europe: 1950

Surface area: 357 020 km2
Population: 83.17 million inhabitants (2020)
Capital city: Berlin (3,3 million inhabitants)
Official languages: German
Listen to German
Currency: Euro
Political system: Republic
Head of state: Frank-Walter STEINMEIER (President) re-elected on 13 February 2022
Head of government: Olaf Scholz Federal Chancellor since 8 December 2021
International code: +49
National holiday: 3 October
History
Berlin
European Central Bank
Did you know?
Useful links
History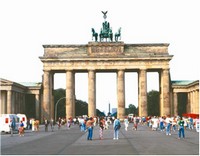 Created in 962 by Otto 1st (Otto the Great), the German Holy Roman Empire was ruled for centuries by the powerful Habsburg dynasty. During the 16th century, the posting of Luther's thesis against the papacy led to the start of the protestant Reformation.
Gate of Brandebourg, Berlin © Berlin-Tourist-information.de
1815 The Congress of Vienna creates the German Confederation, comprising 39 sovereign States led by Austria.
1870 Franco-German war: Germany conquers Alsace and Lorraine.
1871 Bismarck declares the creation of the Second Reich, which marks the unification of Germany.
1918 Germany is defeated in the First World War and signs the Treaty of Versailles.
1919 Start of the Weimar Republic (1919-1933).
1933 President Hindenburg appoints Adolf Hitler to the position of Chancellor: creation of the Third Reich.
1939 The German army invades Poland. Start of the Second World War. The launch of the Holocaust sees the slaughter of millions of Jews.
1945 Germany surrenders and the Second World War is over. The Allies divide Germany and Berlin into four zones of occupation.
1949 Creation of the FRG (Federal Republic of Germany) and of the GDR (German Democratic Republic).
1955 The FRG joins NATO.
1957 The FRG is a founder member of the European Economic Community (EEC).
1961 Construction of the Berlin wall.
1973 Both German States join the United Nations.
1989 The fall of the Berlin wall sees West and East Berliners once again reunited.
1990 The political reunification of Germany is officially carried out. The "Länder" of the former East Germany are incorporated into the European Union.
1990 The city of Berlin is chosen as the country's Capital.
1998 The Social Democrats (SPD) win the elections. Gerhard Schröder is elected as Chancellor. He is re-elected in 2002.
2005 The Christ Democrats won the elections; Angela Merkel became Chancellor of a great coalition between Christ Democrats and Social Democrats.
2019 Ursula von der Leyen was appointed President of the European Commission.
Berlin
European Central Bank
Did you know?
Useful links