Accession to the Council of Europe: 1978
Surface area : 160 km²
Population : 37 219 inhabitants (2014)
Capital : Vaduz
Official language : German
Government type : Constitutional monarchy
Head of state : Prince Hans-Adam II
Head of government : Daniel Risch since 25 March 2021
Currency : Swiss franc
International code : +423
National holiday : August 15
History
Vaduz
The princely residence
Did you know?
You might also want to read
History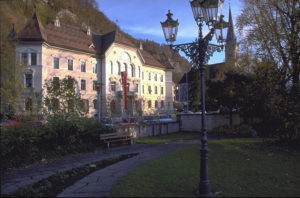 The origin of Liechtenstein dates back centuries ago. Therefore, it is all the more impressive that such a small State has preserved its sovereignty despite the various historical challenges it faced. Since the mid-twentieth century, Liechtenstein has been an active partner of several international organizations and institutions, such as the Council of Europe, the World Trade Organization, and the United Nations, thus assuming the responsibilities of an international role. Since World War II (in which Liechtenstein remained neutral), the country's low taxes have spurred outstanding economic growth. In 2000, shortcomings in banking regulatory oversight resulted in concerns about the use of financial institutions for money laundering. However, Liechtenstein has implemented anti-money-laundering legislation and has concluded various agreements with the European Union on that matter.
Source: CIA World Factbook
1806 Sovereignty after accession to the Rhine Confederation
1852 Customs union with Austria
1868 Suppression of the Army 
1914 Liechtenstein remains neutral during the First World War
1919 Cancellation of the custom union with Austria 
1921 Adoption of a new constitution
1924 Customs union with Switzerland and introduction of the Swiss franc
1939 Liechtenstein remains neutral throughout the Second World War
1975 Member of the Organization on Security and Cooperation in Europe (OSCE)
1978 Accession to the Council of Europe 
1989 Prince Hans-Adams II comes to power
1990 Accession to the United Nations
1991 Accession to the European Free Trade Association (EFTA)
1995 Accession to the European Economic Area and to the World Trade Organization
2003 Adoption of a new constitution
2004 The Hereditary Prince Alois is put in charge of representing Prince Hans-Adams II
2005 Start of taxation on savings (bilateral agreement with the EU)
2008 Signing of the Schengen and Dublin agreements
Vaduz
The princely residence
Did you know?
You might also want to read
Additional sources: Communications and public relations office of Liechtenstein