Accession to the Council of Europe : 1999
Official language : Georgian
Capital : Tbilissi
Government type : Republic
Head of State : President Salomé Zourabichvili, elected on October 28. 2018
Head of Government : Prime MinisterIrakli Garibashvili since February 22nd, 2021
Area : 69 700 km²
Population : 4.49 million inhabitants (2014)
Independence : April 9, 1991
Official currency : Lari (GEL)
International code : +995
National holiday : May 26
History
Batoumi
Georgian culture
Did you know?
You might also want to read
History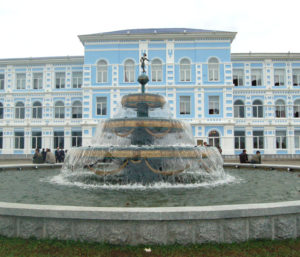 Georgia has a long history that spans 3,000 years. Inhabited since the Palaeolithic period, Georgia was divided into two regions between the sixth and the fourth centuries BC: Colchis to the west (western Georgia today), the mythical land of the Golden Fleece, and Iberia to the east (eastern Georgia). A strategic crossroads between East and West, Georgia was frequently invaded by enemy armies. It always knew how to keep its independence from the Arabs, Mongols and Turks, but could not resist colonisation by the Russian forces, whose invasion violated the Treaty of Guiorguievsk signed between Georgia and Russia in 1783. This treaty provided for a Russian military protectorate over Georgia, while ensuring the autonomy of the Georgian kingdom. In reality, however, Georgia was simply integrated into the Russian Empire. It regained its independence in 1918.
Photo: University of Batoumi © Georgian Parliament
1918 : Georgian independence.
February 1921 : Occupation of Tbilissi by the Red Army, the end of Georgian independence.
August 1924 : General insurrection against the Russian Bolshevik occupation.
1928/1931/1936/1956/1962 : Bloody repressions of the Georgian people, sparked by manifestations for independence.
1972 : Edouard Chevardnadze becomes the head of the Communist Party of Georgia.
1978 : Manifestation in Tbilissi in order to protect the Georgian language.
April 9, 1989 : Brutal repression of a peaceful manifestation in the Georgian capital. 43 protesters were killed.
1990 : Victory of the "Round Table", a coalition for independence, in the legislative elections. Zviad Gamsakhourdia becomes president.
April 9, 1991 : Georgia gains its independence following the fall of the USSR.
1992 : Military putsch forces President Gamsakhourdia into exile. Unilateral declaration of independence by Abkhazia, thus starting a conflict with Georgia.
1993 : Russia gets invovled in the conflict. Accession to the Commonwealth of Independent States.
1999 : Partnership and Cooperation Agreement with the European Union
November 5/ 23, 2003 : Rose Revolution.
January 2004 : Mikheïl Saakashvili is elected President of Georgia. He promises to regain the separatist regions of Southern Ossetia and Abkhazie.
2006 : European Neighbourhood Policy with European Union.
April 2008 : Russia shows its opposition to the accession of Georgia to NATO by increasing its support to the separatist regions of Southern Ossetia and Abkhazie.
2008 : Battles between Georgian troops and those of Southern Ossetia. Terrorist attacks are committed in Abkhazie, Russia accuses Georgia. Clashes occur at the Georgian and Abkhazian borders.
August 15/16 2008 : Georgia and Russia sign a cease-fire negotiated by the French Presidency of the European Union .
2009 : protests against the presidential elections in Abkhazia by the European Union, the candidate and the potential countries to the EU, and the EFTA countries.
2011 : Visas and Readmission Agreements with the European Union.
Batoumi
Georgian culture
Did you know?
You might also want to read
Sources of texts: Georgian Ambassy in Paris