Accession to the EU: 1957 founder member
Accession to the Council of Europe: 1949
Surface area: 30 515 km²
Population: 11,55 million inhabitants (2020)
Capital city: Bruxelles
Official languages: Dutch, French, German
Political system : Constitutional monarchy
Head of state: King Philip. After the abdication of his father, King Albert II, Prince Philippe was sworn in on 21 July 2013 before the House of Representatives as the seventh King of the Belgians.
Head of government: Alexander de Croo was appointed Prime Minister on 30 September 2020
Currency: Euro
International code: + 32
National holiday: July 21st
The belgium deputies of the European Parliament
History
Comics
Belgian Praline
Did you know?
Useful links
History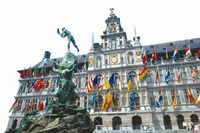 For centuries, from the invasion of the Franks in the 5th century to the installation of the Dukes of Burgundy in the 14th century, Belgium was the scene of numerous confrontations.
Shared on many occasions and placed under various influences, it was only in 1830 that Belgium found its own identity with the declaration of its independence.
Grand Place, Brüssel © TBFB
1831 Leopold I of Saxe-Coburg becomes the first sovereign.
1865-1909 Reign of Leopold II marked by colonial conquests in Africa.
1914 Despite its neutrality, Belgium is invaded by Germany.
1925 Locarno Agreements: Belgium sees its borders with Germany guaranteed.
1940-1945 New occupation of the territory by German troops.
1944 Customs union signed with Luxembourg and the Netherlands.
1949 Belgium joins NATO.
1951 Heavily criticised for his rapid surrender to the Germans, Leopold III abdicates in favour of his son Baudouin I.
1957 Belgium is a founding member of the EEC.
1977 The Egmont Pact divides Belgium into three relatively independent regions.
1993 The new Constitution officially establishes a federal country made up of three regions: the Flemish Region, the Walloon Region and Brussels-Capital.
1993 Death of Baudouin I. His brother Albert succeeds him.
1999 The President of the Flemish Liberals and Democrats (VLD), Guy Verhofstadt, is the new Belgian Prime Minister, a position he retains after the 2003 parliamentary elections.
2007 Guy Verhofstadt resigns in June following the parliamentary elections. Since then, Belgium has been without a government. The Flemish and Walloon political parties are negotiating the formation of a new coalition government.
2008 On 20 March Yves Leterme becomes Prime Minister and sets up a government based on a grand coalition. On 30 December, Herman van Rompuy is appointed Prime Minister.
2010 At the end of April, the Leterme government resigns. However, Yves Leterme remains Head of Government. In June, in the advanced parliamentary elections, the New Flemish Alliance (N-VA) under Bart de Wever wins in Flanders (28%) while the Socialists (35%) under Elio di Rupo wins in Wallonia. In September, the pre-negotiations for the formation of the government by Elio di Rupo fail. On 21 October, King Albert II appoints the Flemish Socialist Johan Vande Lanotte as the new mediator to try to bring the country out of the crisis.
2011 At the end of January the mediator Johan Vande Lanotte resigns. In July, Belgium "celebrates" the 400 days without a government.
2019 Charles Michel is appointed President of the European Council.
Comics
Belgian Praline
Did you know?
Useful links