Acession to the EU: 2004
Accession to the Council of Europe: 1993
Surface area: 78 866 km2
Population: 10,69 million inhabitants (2020)
Capital city: Prague (1,2 Million inhabitants)
Official languages: Czech
Listen to Czech
Currency: Czech Crown
Political system: Republic
Head of state: Petr Pavel was elected President on 28 January 2023.
Head of government: Petr Fiala Prime Minister since 28 November 2021
International code: + 420
National holiday: October 28
History
Praha
Vaclav Havel
Did you know?
You might also want to read
History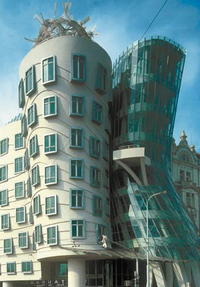 The kingdom of Bohemia was founded in the 9th century. From 1526 onwards, the Habsburgs acceded to the throne of Bohemia, only relinquishing power in 1918.
© CzechTourism The dancing house
1977 With opposition in the country having virtually disappeared, the next note of dissidence comes in the form of Charter 77, chiefly signed by Vaclav Havel.
1989 The Velvet Revolution. The fall of the communist regime begins during a students' demonstration. In late December, Vaclav Havel is elected President of Czechoslovakia by the Parliament.
1993 Czechoslovakia democratically divides itself into two countries: the Czech Republic and Slovakia.
1999 The country joins NATO.
2004 The Czech Republic joins the European Union.
2007 President Vaclav Klaus nominated a new government with Mirek Topolanek as the prime minister.
2009 After the non-defiance vote and the demission of Mirek Topolanek, Jan Fischer is declared as temporary Prime minister. 
2010 Petr Nečas becomes Prime minister.
2018 Mr Miloš Zeman, was re-elected for a second five-year term in the presidential elections of 27 January 2018.
Praha
Vaclav Havel
Did you know?
You might also want to read