Accession to the Council of Europe: 1950
Surface area: 103.000 km2
Population: 325 671 inhabitants (2014)
Capital: Reykjavík
Official language : Icelandic
Government type : Constitutional Republic
Head of state : Guðni Jóhannesson President of the Republic on Aug 2016
Head of government : Katrin Jakobsdottir, Prime Minister was reappointed on 28 November 2021
Currency : Icelandic Krone
International code : +354
National holiday: June 17
History
Reykjavik
Halldor Laxness
Björk
Did You Know ?
You might also want to read
History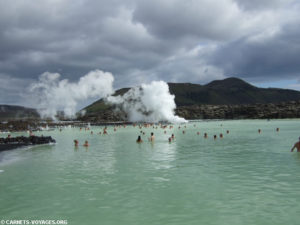 Under Norwegian and Dane domination for more than five centuries, Iceland only became an independent Republic in 1944. The country, however, continues to have privileged relations with the Nordic countries and it is also a member of several international organizations, such as the United Nations, NATO, and the Council of Europe. In July 2009, Iceland applied to join European Union. The negociations started in July 2010. 
Blue Lagoon, natural hot spring © carnet-voyages.com
870-930 : Iceland was the last of the European countries to be colonized. The first settlers were Vikings from the British Isles and Scandinavian countries. 
930 : First parliament established in Pingvellir.
1000 : Christianity is adopted.
1264 : Internal conflicts ended Icelandic independence. Iceland formed an alliance with the King of Norway.
1380 : The Norwegian and Danish Kingdoms formed a union; Denmark became dominant partner. 
1815 : The Napoleonic Wars result in the union of Sweden & Norway, however, Iceland, Greenland, and the Faroes Islands remained under Danish reign. 
1918 : Iceland gained its sovereignty. 
1940 : One month after the German invasion of Denmark, British soldiers occupied Iceland.
1941 : A bilateral defense agreement between the US and Iceland called for the presence of American soldiers in Iceland. Due to the American presence, British troops were relieved of their posts. American troops remained in Iceland until 1947.
1944 : The Republic of Iceland is officially proclaimed on June 17th, in Pingvellir.
1949 : Accession to NATO.
1951 : Due to a second bilateral defense agreement with the US, American troops returned to Iceland.
1970 : Iceland joined the European Free Trade Association (EFTA).
1972 : Free Trade Agreement with the European Economic Community (EEC).
1980 : Ms. Vigdís Finnbogadóttir was elected the fourth president of Iceland, becoming the first female president of a European nation.
1994 : Iceland joined the European Economic Area.
1996 : Mr. Olafur Ragnar Grimsson was elcted with 40% of the vote, succeeds Vigdis Finnbogadottir.
2001 : Full application of the Schengen agreement in Iceland.
2006 : American troops left Iceland, however, the accord of 1951 remains in effect.
2007 : After the parliamentary elections in May, a coalition government of the Independent Party and the Social Democratic Party is formed.
2008 : Mr. Olafur Ragnar Grimsson was reelected for a fourth term of office.
2010 : Opening of the negociations of accession to the European Union.
2013 The Icelandic government decided to suspend the negociations with EU until a referendum about whether entering the EU or not is being held 
Reykjavik
Halldor Laxness
Björk
Did You Know ?
You might also want to read
Textquelle:
Ständige Vertretung Islands im Europarat