Accession to the Council of Europe : 2004

Surface Area : 2 km²
Population : 38 682 inhabitants (2018)
Capital : Monaco
Official languages : French
Government type : Constitutional Monarchy
Head of state : HSH Prince Albert II
Head of government: Pierre Dartout Principality Minister of State since 1 September 2020
Currency : Euro
International code : +377
National holiday : November 19 
History
Monte-Carlo
Fontvieille
Tourism
Did you know ?
You might also want to read
History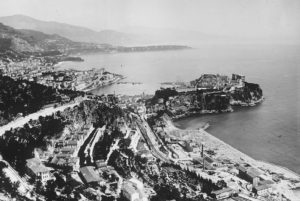 Monaco, known as "le Rocher" (the Rock) at the time, was taken over by François Grimaldi of France in 1297. Officially recognized as "La Malizia" by the international community when it joined the United Nations in 1993, the Principality of Monaco has been constructed and developped over the centuries according to the wishes of the princes. 

Fontvieille  © Monaco press service
1297 : Capture of fortified castle and occupation of the "Rocher" in Monaco by François Grimaldi.
1342 : Charles Grimaldi became Seigniory of Monaco. 
1489 : Recognition of independence of Monaco. 
1612 : Honore II became Prince. 
1848 : Menton and Roquebrune declare themselves "free cities" and are placed under the protection of the Kingdom of Sardinia. 
1856 : Creation of the Bathing Union and Casino.
1861 : Menton and Roquebrune are annexed by France. 
1865 : The French and Monegasque territories create a custom union.
1911 : The Prince Albert enacts the first Monegasque constitution.
1949 : Prince Rainier III takes the throne. 
1962 : Enactment of a new Monegasque constitution.
1993 : Monaco becomes the 183th permanent member of United Nations.
1997 : 700th anniversary of the Grimaldi dynasty.
2001 : A monetary convention between Monaco and the government of the French Republic (representing the European Community) is signed, Monaco adopts the Euro as its currency. 
2002 : Introduction of the Euro. 
2004 : Accession to the Council of Europe.
12 juillet 2005 : Prince Albert II takes the throne after the death of his father, Prince Rainier III.
Monte-Carlo
Fontvieille
Tourism
Did you know ?
You might also want to read
Source of text: © Monaco press service