Accession to the Council of Europe: 1949
Surface Area: 385,199 square kilometres
Population: 5.12 million inhabitants (2014)
Capital: Oslo
Official Language(s): Bokmål, Nynorsk, Lapon
Political System: Constitutional monarchy
Head of State: King Harald V
Head of Government: Prime Minister Jonas Gahr Stere since 14 October 2021
Currency: Norwegian Crone
International Code: +47
National Holiday: May 17
History
Oslo
Fjords
Edvard Munch
Did You Know?
You might also want to read
History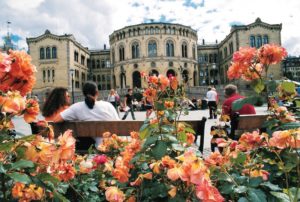 Norway or in Bokmål, Norge, can be translated simply as "the northern route." From the ninth to the eleventh century, the Vikings colonized much of the Scandinavian Peninsula as well as parts of Scotland and Ireland. During this time, Viking communities were established in areas of Iceland and Greenland. At the end of the ninth century, Norway was finally unified by Harald Fairhair (872-933), who later became the first King of Norway. While Norway is not a member of the European Union, it has chosen to opt into EU projects.
Parliament © Kurt Haman, IN
1814: In the wake of the Napoleonic wars, Norway seceded from their union with Denmark, to enter into a union with their Swedish neighbor. A Norwegian constitution was drafted and finally signed on May 17.
1905: After a nation-wide referendum, Norway seceded from their union with Sweden.
1914-1918/1939-1945: During both world wars Norway remained neutral. Nevertheless, on April 9, 1940, German forces attacked and invaded the Scandinavian country, forcing the royal family and government to flee to England.
1949: Norway is a founding member of several international organizations including the Council of Europe, NATO, and the UN, whose first secretary general was Norwegian.
1970: The development of the egalitarian social political system
1972: Norway opposes, by means of national referendum, accession to the European Union.
1991: King Olav V died, succeeded by his son Harald V.
1992 : Signature of the European Economic Area Agreement
1994: Norway, for the second time, is opposed to joining the EU.
2001: Norway joins the European Economic Area and the Schengen zone.
since 2009 : participation to several EU projects linked to Norway's participation to the EEA.
2014 Jens Stoltenberg became Secretary General of NATO. His term was extended until the end of September 2022.
Oslo
Fjords
Edvard Munch
Did You Know?
You might also want to read
Source:  Norwegian Embassy, Paris