Accession to the Council of Europe : 1995
Area : 28 748 km2
Population : 2.89 million inhabitants (2014)
Capital : Tirana
Official language : Albanian
Religion : Catholic
Government : Parliamentary Republic
Head of State : Ilir Meta, President since April 29th, 2017
Head of Government : Edi Rama (Prime Minister) since the 15th september 2013
Currency : Lek (ALL)
Calling code : + 355
National day : November 28
History
Tirana
Mother Teresa
Did you know?
You might also want to read
History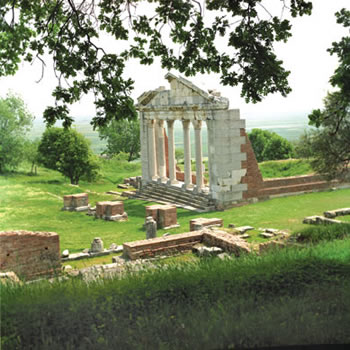 With a combination of Greek, Roman, Italian and Turkish cultures, Albania benefits from the cultural heritage of the Mediterranean shores. Hindered by political instability, which has plagued the Balkans for centuries, Albania experienced several military conflicts first-hand during the 1990's, notably the Kosovo Conflict. However, Albania played a central role for NATO and the United States throughout that tumultuous period.
© albaniantourism.com
1912 :Albania declares its independence.
1920 : At the Congress of Lushnje, Tirana becomes the Albania capitol.
1939 : Occupation of Albania by fascist Italy.
1941 : Italy leaves Albania after its defeat against Greece. Creation of the Communist Party of Albania.
1943-1944 : Occupation of Albania by Germany.
1946 : Foundation of the Popular Republic of Albania by Enver Hoxha, who had attempted to construct a Catholic church detached from the Church of Rome.
1948 : Albania breaks away from Tito's Yugoslavia.
1961 : Albania breaks aways from the USSR. Later this year, Albania leaves the Warsaw Pact.
1967 : The practice of any religion is made illegal.
1978 : Albania breaks off from China.
Septembre 1990 : Albania deputies secretly adopt a constitution for the Republic of Kosovo.
1992 : Trade and Co-operation Agreement between the European Union and Albania. Albania becomes eligible for funding under the EU's "Phare Program".
1993 : Economic and social reforms lead to privatization.
1994 : Accession to the OSCE (Organization for Security and Cooperation in Europe).
1995 : Accession to the Council of Europe and a partner for peace of NATO.
1999 : Member of the Organisation International de la Francophonie.
2006 : The Council decises on a revised European Partnership for Albania. The European Commission Albania Readmission Agreement enters into force.
2008 : The European Union and Albania reach an agreement to facilitate the visa process.
2009 : Accession to NATO. The Stabilisation and Association Agreement (SAA) becomes effective. Albania submits its application for European Union membership.
2010 : The European Union grants visa liberalisation to Albania.
2014 Albania officially becomes candidate to become a member State of the European Union.
2020: ministers for European affairs gave their political agreement to the opening of accession negotiations with Albania.
Tirana
Mother Teresa
Did you know?
You might also want to read