Accession to the Council of Europe: 1949
Area : 780 580 km2
Population : 76.67 million inhabitants (2014)
Capital : Ankara
Official language : Turkish
Political Regime : Republican parliamentary democracy
Head of state and of government : Recep Tayyip Erdogan, re-elected on May 28th, 2023
Head of government : A constitutional review, which came into force after June 24th 2018, put an end to the function of prime minister
Currency : Turkish lira
International code : + 90
National holiday : October 29
may
History
Istanbul
Ataturk
Cappadocia
Did you know?
You might also want to read
History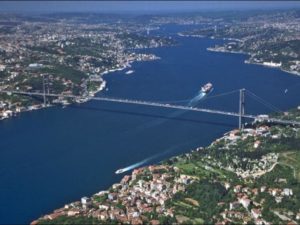 As the birthplace of several civilizations—the Assyrians, the Sumerians, the Hittites, the Greeks, and the Romans — Turkey's cultural history is very rich. Founded at the beggining of the 14th century, the Ottoman Empire, authoritarian and archaic, faced a national movement similar to those throughout Europe. The First World War precipitated its downfall. As the Allies dismantled the fallen empire, nationalist Mustafa Kemal was preparing himself for the national independence.

Picture: Bosphorus Bridge 
Source: Turkish Embassy, Paris
1923 : Turkey gains independence thanks to the Treaty of Lausanne. Mustafa Kemal is named first president of the Republic of Turkey.
1924 : Abolition of the Caliphate, followed by a series of reforms creating a completely secular state turned to the occident.
1928 : Turkey is no longer an Islamic state.
1934 : Suffrage is granted to women.
1945 : Multi-party system established.
1949 : Turkey joins the Council of Europe and NATO.
1960 : Military coup overthrows the party in power in order to safeguard the democratic state. They remain in power for one year.
1980 : Military coup. Rise in separatist activities by the Kurdistan Workers Party (PKK) against the Turkish state (the PKK dates back to 1925).
1987 Turky applies for membership in the EU. This is rejected by the commission in 1989.
1995 : Refah Islamists win a majority in the legislative elections. Customs union with the EU.
1998 : Prime Minister issues a dissolution of the Refah party for actions against the secular principles of the Republic.
2005 : Turkey begins adhesion negotiations with the EU which were accorded due to the reforms relaized by Turkey (abolishment of death penalty, army under more civil control) .
2006 : Suspension of Franco-Turkish relations due to a French law penalizing Turkish denial of the Armenian genocide in 1915. First official voyage of a pope to a Muslim country; Benoit XVI supports Turkish accession to the EU. Turkey's refusal to follow the EU's custom union regulations with Cyprus causes a halt in the adhesion negotiations.
2007 : Prime Minister Recep Tayyip Erdogan's party wins the legislative elections. For the third time, the Parliament elected Abdullah Gul as the president of the Republic of Turkey. National referendum alters presidential elections from being elected by the national Parliament to universal suffrage. Parliament approves military actions against Kurdish rebels in Northern Iraq.
2008 : the constitutionnal court repeals the constitutionnal reform that allowed the carrying of the islamic scarf by women on campus. With 6 votes agaisnt 5, the constitutionnal court chose not to banned from political life the Jusrice and Development Party (AKP) ; such demand was made because of "activities against laïcity".
2009 : the non-implementation of the Akara protocole prevents 8 chapters from being negociated.
Istanbul
Ataturk
Cappadocia
Did you know?
You might also want to read
Source: Turkish Embassy, Paris