Accession to the EU: 2013
Accession to the Council of Europe : 1996
Area : 56.594 km2
Population : 4.06 million inhabitants (2020) 
Capital : Zagreb
Official language : Croatian
Government type : Parliamentary republic
Head of State : Zoran Milanovic elected January 5, 2020
Head of Government : Andrej Plenković since Oct, 2016.
Official currency : euro from 1 January 2023
International code : +385
National holiday : June 25
History
Zagreb
Natural heritage
Did you know?
You might also want to read
History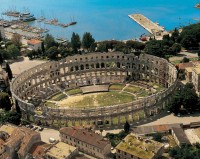 The history of Croatia is very rich; the country is practically a mosaic of influences. During the last millennium, it has managed to preserve its identity, although it was part of various larger, dominating entities.
Pula Arena © Milan Babić, ONT Croatie
Text: CIA World Factbook: Croatia
1102 : Croatia signs a treaty which forms a union with the Hungarian Kingdom.
1527 : The Austrian Emperor becomes suzerain of Croatia. This marks the debut of the Habsbourgeois era in Croatia.
1918 : In the wake of the First World War, a kingdom composed of Croatians, Serbs, and Slovenians is created. This kingdom united Croatia with Montenegro and Serbia. 
1929 : King Alexander proclaims the kingdom of Yugoslavia, which replaced the previous kingdom of the Croatians, Serbs, and Slovenians, with a dictatorship under the King.
1941 : Germany invades and occupies Yugoslavia. The country was under the control of Germany and Italy.
1945 : In the aftermath of WWII, there was a bloody and intricate civil war in Yugoslavia. The Popular Republic of Croatia becomes one of the six components of the new Republic of Yugoslavia, under the leadership of Croatian Josip Broz, a.k.a. Tito.
1991 : Start of the Croatian War of Independence.
1992 : Croatia was recognized by the international community. 
1995 : The Dayton Agreement leads to the independence of the Republic of Croatia.
1996 : Croatia joins the Council of Europe. 
2002 : Milosevic is extradited to the Hague, where he is accused of crimes against humanity before the International Criminal Court.
2004 : Croatia becomes an official candidate for accession to the European Union.
2005 : The beginning of the negociations of adhesion to the EU.
June 30, 2011 : Official end of the negociations for accession to EU.
2012: On January 22, 2012 the Croatians voted to enter the EU (66.67%).
2013 Croatia became the 28th member state of the European Union on July 1st.
2019 The Croatian Marija Pejčinović Burić was elected Secretary General of the Council of Europe for a five-year term.
Zagreb
Natural heritage
Did you know?
You might also want to read