Accession to the EU: 1986
Accession to the Council of Europe: 1977
Surface area: 505 957 km2
Population: 47.33 million inhabitants (2020)
Capital city: Madrid (5,1 million inhabitants)
Official languages: Castilian (Spanish)
Listen to Spanish
Currency: Euro
Political system: Constitutional monarchy
Head of state: King Felipe VI (since June 19, 2014).
Head of government: Pedro Sánchez (PSOE) since June 1st, 2018
International code: + 34
National holiday: October 12
History
Barcelona
Corrida
Pedro Almodovar
Did you know ?
You might also want to read
History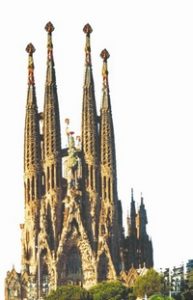 When Isabella I inherited the throne of Castile in 1474, and her husband Ferdinand II inherited that of Aragon in 1479, the two largest kingdoms were finally united to form the kingdom of Spain. During the 16th century, Spain became one of Europe's leading powers following the conquest of the New World by the Conquistadors.
Church of the Holy Family, Barcelona © Tourist Office of Spain
1808-1813 Spanish insurrection against French occupation. One by one, the American Colonies gain their independence.
1923-1930 Military dictatorship of Miguel Primo de Rivera.
1931 Alphonso XIII goes into exile without abdicating. The Spanish Second Republic is proclaimed on April 14th.
1936 The elections are won by the left wing parties, who have united as a popular front. Disorder rapidly ensues (including street fighting) and on July 13th, 1936, the opposition leader Calvo Sotelo is assassinated. A military insurrection begins, led by General Francisco Franco. The civil war begins.
1936-1939 The civil war rages between the Nationalists and the Republicans.
1939-1975 Franco sets up a dictatorial regime.
1939-1945 Spain remains neutral during the Second World War.
1955 Spain joins the United Nations.
1975 Death of Franco. Juan Carlos, the grandson of Alphonso XIII, is appointed as his successor.
1976 Carlos Arias Navarro, the pro-Franco Prime Minister, resigns from office.
1978 A new constitution, ushering in a democratic regime, is approved in a referendum.
1982 Spain joins NATO.
1986 Spain joins the EEC.
2004 José Luis Zapatero is elected as head of the government on April 16th.
2008 The socialist party under Prime Minister Jose Luis Zapatero wins the parliamentary elections and the elections of the senate. 
2017 Catalonia declare independence from Spain.
Barcelona
Corrida
Pedro Almodovar
Did you know ?
You might also want to read