Accession to the Council of Europe: 2001

Area : 86 600 km2
Population : 9.48 million inhabitants (2014)
Capital : Baku
Official language : Azerbaidjani (Azeri)
Political Regime : Republic
Head of state : President Ilham Aliyev, re-elected on April 11th, 2018
Head of government : Prime Minister Ali Asadov , since October 8th 2019
Currency : Manat (AZN)
International calling code : +994
National holiday : May 28
History
Baku
The Silk Road
Maiden Tower
Did you know ?
You might also want to read
History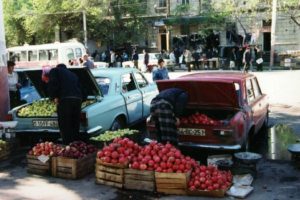 Up until its independence in 1991, Azerbaijan was subject of many integrations, conquests and invasions, successively by the Empire of Medes (eighth century BC), and then the Persian Empire of Achaemenian (sixth century BC), by the Arabs, who converted people to Islam (seventh century), the Oghuz Turks (eleventh century), the Mongols (thirteenth century) and finally by the Russians in the early nineteenth century. Since then, its history has been intertwined with that of the USSR. The collapse of the communist bloc led Azerbaijan to declare its independence on August 30, 1991.
Picture: Fruit market, Baku © Intercaspian.com
1918-1920 : Azerbaijan proclaimed itself an independent and democratic Republic.
1920 : The country is occupied by the Red Army, and is renamed the Soviet Socialist Republic of Azerbaijan in 1936.
1991 : Azerbaijan declares its independence after the collapse of the communist bloc.
1992 : Abulfaz Eltchibeï, head of the Azerbaijani Popular Front, was elected president.
1993 : Removal of A. Eltchibeï and the election of former Soviet leader Heydar Aliyev, who would be president until 2003. Beginning of the Nagorno-Karabakh War, which led to the occupation of the western part of Azerbaijan by Armenia.
1994 : A cease-fire is declared.
1995 : A new constitution adopted by referendum.
1997 : Azerbaijan is back on the oil world market.
1998 : The Summit of the Silk Road is held for the first time in Baku in September, it included more than 32 countries.
1999 : The Partnership and Cooperation Agreement with the European Union enters into force.
2000 : Parliamentary elections. The opposition to President Aliyev denounced massive fraud, confirmed by international observers.
2001 : Azerbaijan became a member of the Council of Europe. In April, President Aliyev is invited by the U.S. Secretary of State to participate in peace negotiations between Armenia and Azerbaijan in Key West, Florida.
2002 : Ratification of the European Convention for the Protection of Human Rights and Fundamental Freedoms.
2003 : The son of H. Aliyev, Ilhan Aliyev, becomes president.
2004 : Participation in the European Neighbourhood Policy of the European Union.
2008 : I. Aliyev is re-elected president. The OSCE judged the election undemocratic.
2009 : Referendum on the Constitution, which puts an end to limits on the number of terms a president can hold in office.
Baku
The Silk Road
Maiden Tower
Did you know ?
You might also want to read