Accession to the Council of Europe : 1994
Area : 467,7 km²
Population : 72 955 inhabitants (2020)
Capital : Andorra la Vella
Official language : Catalan
Government type : Parliamentary democracy since March 1993, though it retains as its chiefs of state a coprincipality;
Head of State : 2 co-princes : the president of France (Emmanuel Macron) and the Bishop of Seo de Urgel of Spain (Joan Enric Vives). they are represented in Andorra by the co-princes' representatives.
Head of Government : Xavier Espot Zamora since 16 th Mai 2019
Currency : Euro
International code : + 376
National holiday : Our Lady of Meritxell Day, September 8
History
Andorre la Vella
A country of snow, a country of culture
Did you know ?
You might also want to read
History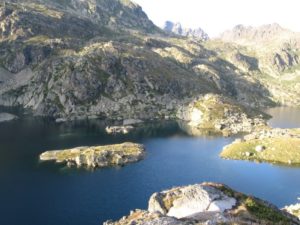 The first documented mention of Andorra dates back to 843, in a precept of the Emperor Charles le Chauve. The Andorran valley is situated in the Urgel region. The co-principality originated from the Paréages, signed during the 13th century between the Urgell bishop of Spain and the Count of Foix of France. In 16th century, the rights of the co-prince of the Count were transferred to the Crown of France.

Juclar Lake © CIA World Factbook
1419 : Legitimization of the Consell de la Terra (Earth Council), predecessor of the General Council (the current parliament)
1748 : Antoni Fiter i Rossell drafts the Manual Digest. This work summarizes Andorran history, practices, and customs, as well as the priviledges of the political institutions. Rossell also proposed several recommendations for Andorran politics.
1763 : Publication of the El Politar andorrà, a supplementary text to the Manual Digest. Over the course of several centuries, the two text constituted a point of reference for Andorran politics.
1806 : Napoleon I's imperial decree of March 2, by which he restored the ancient political and administrative ties with France that were severed after the Revolution.
1866 A process of democratization begins with the La Nova Reforma, which modernized the Andorran electoral system.
1933 : Establishment of universal suffrage for men.
1978 : Institutional reforms. Suffrage is extended to women.
1981 : The co-princes order the creation of the Executive Council.
1987 : Accession to Interpol.
1991 : Andorra enters a customs union with the European Community for a limited amount of products.
1993 : On March 14, the Andorran population approved, by referendum, the first Andorran constitution which went into effect on May 4. Accession to the United Nations as well as UNESCO.
1994 : Adhesion to the International Red Cross Committee and the Council of Europe.
2000 : The signing of the Convention between the Andorran principality, the Kingdom of Spain and the French Republic about entry, circulation, stay and establishment in their principality. The second convention was signed in 2003. The condition of Andorran immigrants residing in the other two countries are at least as favorable as the conditions applied to immigrants from European Union nations residing in France or Spain.
2002 : By virtue of its monetary records with Spain and France, Andorra is found to be de facto in the Euro zone. 
2004: Conclusion of new cooperation record with the EU in environment, culture, education, transport, and regional political matters.
July 2011 : Signing of a monetary agreement with the European Union.
Andorre la Vella
A country of snow, a country of culture
Did you know ?
You might also want to read