Accession to the Council of Europe : 2002
Area : 51 197 km2
Population : 3.83 million inhabitants (2014)
Capital : Sarajevo
Official languages : Bosnian, Serbian et Croatian
Government type : Republic
Head of State : Triple Presidency; since 2018: Šefik Džaferović, Milorad Dodik, Željko Komšić 
Since 20 November 2020, Milorad Dodik (Bosnian) has held the eight-month rotating presidency.
Head of Government : Zoran Tegeltija was appointed President of the Council of Ministers by the Tripartite Presidency on 23 December 2019.
Official currency : Convertible mark /KM/
International code : + 387
History
Sarajevo
Bosnian Cinema
Did you know ?
You might also want to read
History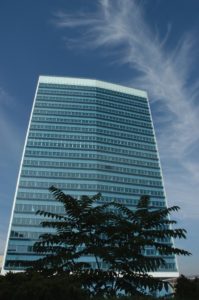 Several historical influences have come together to form the Bosnia and Herzegovina that we know today. Over the millenia, the rich civilization and culture of this country has been influenced the cultures of many different peoples : the Byzantines and the Franks, Greeks and Ottomans, Hungarians and Venetians. Therefore, Bosnia and Herzegovina are full of sociological, economical, and denominational differences. Combined with local tradition, all of these cultures have created a very peculiar area in Europe, one that is home to many different faiths and ethnicities. This multi-cultural mix is the defining characteristic of Bosnia and Herzegovina today.
Picture: Charter called 'Povelja Kulina bana', written in old bosnian in 'bosancica' letters © stlraja.com
1180 : Ban Kulin becomes the founder of the medieval Bosnian state: a charter between Ban Kulin and Dubrovnik in 1189 shows that Bosnia and Herzegovina was, in fact, a state at this time.
1463 : Bosnia and Herzegovina is conquered by the Ottomans and becomes a sandjak of the Ottoman Empire, with Sarajevo as the capital.
1878 : The Berlin Congress declares Bosnia and Herzegovina to be part of the Austrian-Hungarian Empire.
1914 : Archduke Francis Ferdinand of the Habsbourg, heir to the throne of the Austrian-Hungarian Empire, is assasinated in Sarajevo. This event is the spark that causes the explosion of the First World War.
1918 : Bosnia and Herzegovina is integrated into the Kingdom of Croatians, Serbians, and Slovenians, which later becomes the Kingdom of Yugoslavia.
March 1992 : The Bosnian Parliament declares independence following a national referendum.
April 1992 : The international community recognizes the Republic of Bosnia and Herzegovina, during its incorporation into the United Nations.
December 1995 : Signing of the Dayton Agreements in Paris, which ended the long and bloody ethnic war in the Balkans, that left over 200,000 dead and 2.1 million displaced.
June 16 2008 : In Luxembourg, the Stability and Association Agreement between Bosnia-Herzegovina and the European Union is signed.
July 2008 : Bosnia-Herzegovina and the European Commission sign a financing agreement for the 2007 national program, the Instrument for Pre-Accession Assistance (IPA).
Nov. 9 2010 : The short-stay visa requirement for citizens of Bosnia and Herzegovina is waived
Sarajevo
Bosnian Cinema
Did you know ?
You might also want to read
Sources of texts: Ambassy of Bosnia and Herzegovina, Paris