Accession to the Council of Europe : 1963
Surface Area : 41 285 km2
Population : 8.14 million inhabitants (2014)
Capital : Bern
Official languages : German, French, Italian, Romansch
Government type : Confederation, similar in structure to a federal republic
Head of state : Alain Berset , President of the Swiss Confederation since for january 2023
Currency : Swiss Franc (CHF)
International code : + 41
National holiday : August 1
History
Bern
Swiss Watches
Swiss Chocolate
Did you know?
You might also want to read
History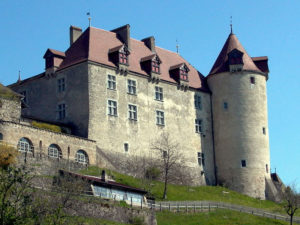 In 1921, the Swiss Confederation appeared, alliance among 3 rural areas. Over the centuries, the alliance has enlarged. Each member manages its own affaires and different members are united only when tackling with the common questions. 
Gruyères castle, Fribourg © Julia Slater / swissworld
1848 Switzerland became a country. Constitution was adopted, endowed a central gouvernement. It was approved by 22 cantons.
1863 Established in Geneva of the International Committee of the Red Cross.
1874 New Constitution was adopted.
1914 – 1918 Switzerland remained neutral during WWI.
1920 The League of Nations was created. Switzerland joined as a member. The headquater of the institution was installed in Geneva. 
1930 – 1945 Switzerland stayed neutral in WWII.
1960 Switzerland is the founding member of the European Free Trade Association.
1963 Switzerland became a member of the Counsil of Europe.
1972 : Free trade agreement with the EU.
1979 The 23th canton, Jura, was created without changing the country boarder.
1989 : Insurance agreement with the EU.
1992 The Swiss Federal Council failed.
1999 : Bilateral agreements I with the EU.
2000 The first bilateral agreements between Switzerland and the European Union were accepted. They shall enter into force in June 2002.
2001 The majority of the population were against joining the EU.
2002 Switzerland, which was already a member in several agences of the United Nations, acquired full membership in the UN. 
2004 The bilateral agreements between Switzerland and the EU were extended to new domains. 
2008 Since December 12, Switzerland joined the Schengen area so people could travel freely without going though boarder control.
Bern
Swiss Watches
Swiss Chocolate
Did you know?
You might also want to read