Accession to the Council of Europe: 1988
Area : 61,2 km2
Population : 32 166 inhabitants (2014)
Capital : Saint-Marin
Official language : Italian
Government type : Parliamentary Republic
Head of government : Two Captains regents with a term of 6 months: Francesco Mussoni and Giacomo Simoncini from 1 October 2021 to 1 April 2022
International code : + 378
National holiday : September 3
History
San Marino
Archers and Jugglers
Did you know ?
You might also want to read
History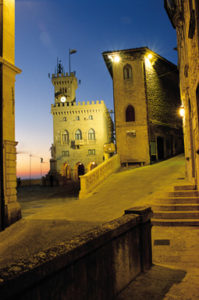 San Marino was founded more than 17 centuries ago, making it the oldest republic in the world. In addition, it is also the smallest European state.
Palazzo nocturne © Permanent Representation of San Marino to the Council of Europe
301 : San Marino was founded by Dalmatian Masons who fled from the Roman Empire in an attempt to evade religious persecution by Emperor Diocletian.
885 : The name Saint Marino was cited in a document for the first time with specific reference to its territory.
1243 : Nomination of 2 premier consuls: the Regent's Captains.
1463 : The Republic of Saint Marino expanded to its modern-day size.
1503 : Cesare Borgia temporarily invades San Marino
1749 : Cardinal Giulio Alberoni Giulio Cardinal, papal legate in Romagna, occupied the Republic for a few months, until Pope Clement XII ordered him to withdraw. This is the second and final time in its history that the country's sovereignty is violated.
1796 : Napoleon wanted to honor the small Republic he admired by offering it a territorial extension to the sea, but San Marino refused the offer.
1849 : Giuseppe Garibaldi took refuge in San Marino, and received the citizenship of San Marino a few years later.
1865 : San Marino is the first European country, and third country in the world, to abolish the death penalty.
1940-1945 : During the Second World War: San Marino remains neutral.
1981 : San Marino elects its first female head of state, Captain Regent Maria Lea Pedini.
1988 : San Marino joins the Council of Europe
1991 : Saint Marino signs a Cooperatrion and Customs Union Agreement with the EU.
2001 : Signing of the Monetary Convention with Italy, on behlaf of the EU, so that San Marino can adopt the euro as the official currency.
2002 : Introduction of the Euro.
1992 : San Marino joins the United Nations
1995 : San Marino signs an accord of cooperation with the EU and takes part in the EU customs union.
Novembre 2006 – mai 2007 : For the second time, San Marino holds the presidency of the Council of Europe. Over the course of the term, San Marino promoted intercultural and interreligious dialogue, struck an accord of cooperation between the Council and the EU, increased the efficiency of the Court of Human Rights, and launched a campaign against violence against women. 
San Marino
Archers and Jugglers
Did you know ?
You might also want to read