Accession to the Council of Europe: 2007

Area : 13 812 km2
Population : 624 335 inhabitants (2014)
Capital : Podgorica
Official language : Montenegrin
Political Regime : Republic
Head of state : President  : Jakov Milatovic elected President on 2 April 2023
Head of government : Dritan Abazovic Prime Minister since 28 April 2022
Currency : Euro (€)
International code : +382
National holiday : July 13 (1878)
History
Podgorica
Kotor
Monastery of Rezivici
Did You Know ?
You might also want to read
History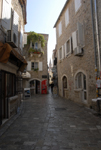 The name "Montenegro" derives from the Serbian "Crna Gora", itself derived from the Venetian "Monte Negro", and can be translated as "black mountain", referring to the dark forests that once covered the Dinaric Alps.
Although border of the Ottoman Empire, Montenegro was able to maitain its independence throughout the fifteenth century. The Kingdom enjoyed a short period of independence in 1910 before being absorbed by the Kingodm of Yougoslavia in 1929. It encountered a lot of changes of status before becoming the last European country to have achieved its independence in June 2006.
Picture: Budva, Montenegro © European Commission
1910 : Montenegro became an independent kingdom.
1918 : King Nicolas I is stripped of his Crown for Montenegro to unit with the Kingdom of Serbs. The state puts an end to forty years of independence and will thus be part of Yugoslavia in 1929.
1943 : founding of the Socialist Federal Republic. First named Democratic Federation of Yugoslavia, it took the name Federal Popular Republic of Yugoslavia after the adoption of a new constitution in January 31, 1946, and finally became the Federal Republic of Yugoslavia in 1963. It survived until January 15, 1992, when four of its republics seceded.
1992 : After the secession of Slovenia, Croatia, Bosnia and Herzegovina, Macedonia and the dismantling of the former Yugoslavia (1946-1991), a new Federal Republic of Yugoslavia was created. It was composed of Serbia and Montenegro.
2003 : The Federation is transformed into a Community of Serbia and Montenegro.
2006 : in May, 55% of Montenegrins voted "yes" to independence by referendum. On June 3, the Montenegrin parliament proclaimed the country's independence and the dissolution of the Community of Serbia and Montenegro. He became the 56th Member State of the Organization for Security and Cooperation in Europe, and is admitted as the 192nd Member State of the United Nations.
2007 : Montenegro adopted by referendum a new constitution by two-thirds majority after more than a year of political debate. Became the 47th member of the Council of Europe.
2008 : The historical leader Milo Ðukanovic became Prime Minister while Filip Vujanovic was elected president on April 6. Agreements with the EU : Interim Agreement on trade and related matters, facilitation of visa issuance agreement and agreement on the readmission of persons residing without authorization.
2009 : waiving of the visa requirements for citizens traveling in Europe.
2010 : Entry into force of the Stabilisation and Association Agreement with the EU. The European Council granted Montenegro official candidate status to the UE.
Podgorica
Kotor
Monastery of Rezivici
Did You Know ?
You might also want to read
Sources of texts:
CIA world factbook
Montenegrin government official website
diplomatie.gouv.fr