Accession to the EU: 1973
Accession to the Council of Europe: 1949
Surface area: 70 282 km2
Population: 4,96 million inhabitants (2014)
Capital city: Dublin (1 million inhabitants)
Official languages: English and Gaelic
Listen to Gaelic
Political system: Republic
Head of state: Michael Higgins, since November 11th, 2011, reelected on 26 th october 2018
Head of government: Micheal Martin , Prime Minister elected on June 27 th, 2020
Currency: Euro
International code: +353
National holiday: 17 March (St Patrick's Day)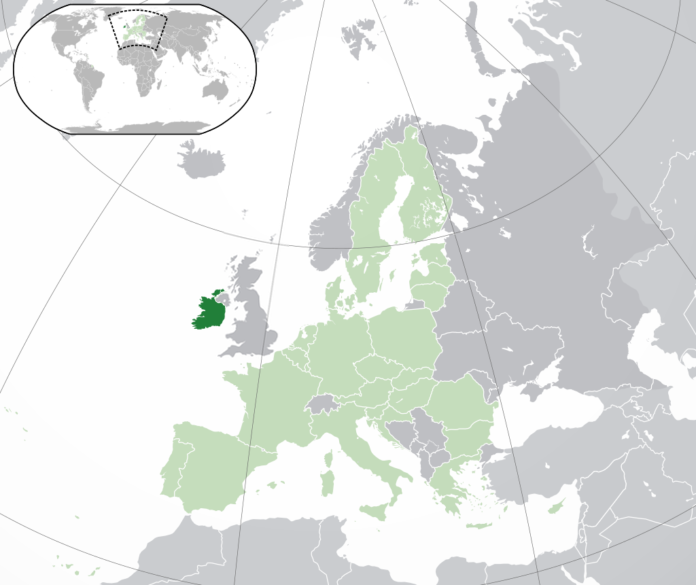 History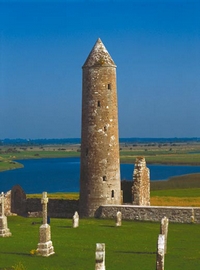 In 1800, the Act of Union brought together the kingdoms of Great Britain and Ireland. However, differences between the economic levels of Great Britain and Ireland became apparent during the 19th century. While Great Britain industrialized rapidly, Ireland lost much of its industry.
Monastic monument, Offaly © Irish Tourism
1846-1851 The Great Famine, following poor potato harvests. This marks the start of the many waves of emigration, which continued for many years.
1905 Creation of "Sinn Fein" (Ourselves Alone), a revolutionary movement founded by Arthur Griffith.
1916 Easter Rising: an armed insurrection by the Irish nationalists against the British presence in Ireland.
1918 "Sinn Fein" wins the general elections and sets up the first Dail (the Irish Parliament): a war for independence immediately begins.
1920 The island is divided in two by the British Parliament.
1921 The Anglo-Irish Treaty sets up the Irish Free State, comprising 26 independent counties, with the remaining 6 counties of Northern Ireland provisionally excluded from the treaty.
1922 Wave of insurrection against the treaty.
1925 The border between Northern Ireland and Southern Ireland becomes permanent.
1939 Ireland remains neutral during the Second World War.
1949 The independent Republic of Ireland is declared on April 18th.
1949 Ireland refuses to join NATO.
1968 Beginning of the "troubles" in Northern Ireland: upsurge of terrorist acts committed by the IRA, which continues until the 1990s.
1973 Ireland joins the EEC.
1990 Mary Robinson becomes the first woman to be elected as President of the Republic.
1997 Bertie Ahern is elected Prime Minister. He wins a second consecutive mandate in June 2002.
2007 The Fianna Fail party of Prime Minister Bertie Ahern wins the parliamentary elections. It is their third victory, a historical performance in Ireland.
2008 After the resignation of Bertie Ahern, Brian Cowen becomes Prime Minister.
Cork
Saint Patrick
James Joyce
Did you know?
You might also want to read