Accession to the EU: 1973
Accession to the Council of Europe: 1949
Surface area: 70 282 km2
Population: 4,6 million inhabitants (2014)
Capital city: Dublin (1 million inhabitants)
Official languages: English and Gaelic
Listen to Gaelic
Main religion: Catholic
Political system: Republic
Head of state: Michael Higgins, since November 11th, 2011, reelected on 26 th october 2018
Head of government: Micheal Martin , Prime Minister elected on June 27 th, 2020
Currency: Euro
International code: +353
National holiday: 17 March (St Patrick's Day)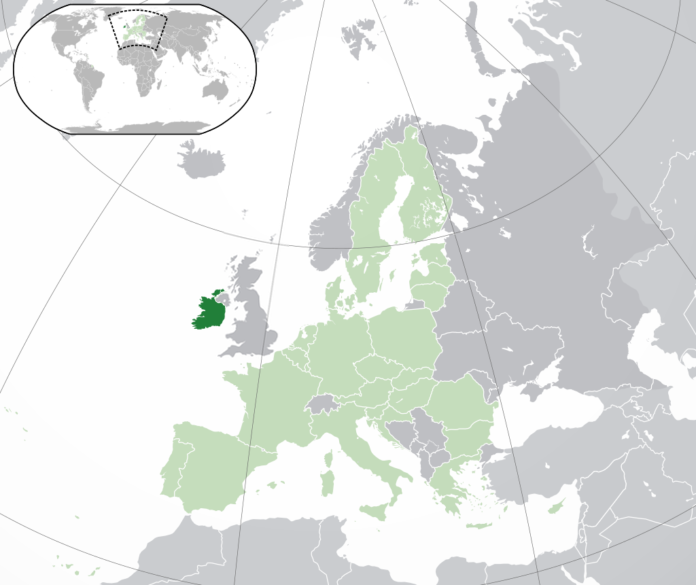 History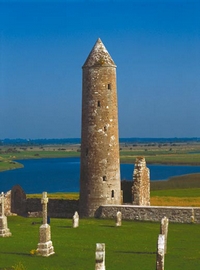 In 1800, the Act of Union brought together the kingdoms of Great Britain and Ireland. However, differences between the economic levels of Great Britain and Ireland became apparent during the 19th century. While Great Britain industrialized rapidly, Ireland lost much of its industry.
Monastic monument, Offaly © Irish Tourism
1846-1851 The Great Famine, following poor potato harvests. This marks the start of the many waves of emigration, which continued for many years.
1905 Creation of "Sinn Fein" (Ourselves Alone), a revolutionary movement founded by Arthur Griffith.
1916 Easter Rising: an armed insurrection by the Irish nationalists against the British presence in Ireland.
1918 "Sinn Fein" wins the general elections and sets up the first Dail (the Irish Parliament): a war for independence immediately begins.
1920 The island is divided in two by the British Parliament.
1921 The Anglo-Irish Treaty sets up the Irish Free State, comprising 26 independent counties, with the remaining 6 counties of Northern Ireland provisionally excluded from the treaty.
1922 Wave of insurrection against the treaty.
1925 The border between Northern Ireland and Southern Ireland becomes permanent.
1939 Ireland remains neutral during the Second World War.
1949 The independent Republic of Ireland is declared on April 18th.
1949 Ireland refuses to join NATO.
1968 Beginning of the "troubles" in Northern Ireland: upsurge of terrorist acts committed by the IRA, which continues until the 1990s.
1973 Ireland joins the EEC.
1990 Mary Robinson becomes the first woman to be elected as President of the Republic.
1997 Bertie Ahern is elected Prime Minister. He wins a second consecutive mandate in June 2002.
2007 The Fianna Fail party of Prime Minister Bertie Ahern wins the parliamentary elections. It is their third victory, a historical performance in Ireland.
2008 After the resignation of Bertie Ahern, Brian Cowen becomes Prime Minister.
Cork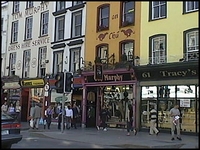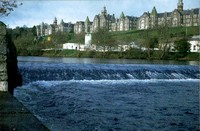 Cork, (whose name in Irish means "marsh"), was created during the Middle Ages on the marshy banks of the river Lee. Located on the south-western coast of the country, Cork is today Ireland's second town after Dublin, the capital city. According to legend, Cork was founded by Saint Finbarr, who killed the last dragon in Ireland. This town is often referred to as "rebel Cork" due to the many uprisings and attempts at Irish independence that began there. As a reprisal, the town center was destroyed and almost totally burnt by the forces of the British crown in 1920. Cork has nevertheless retained a number of interesting sights, including its Georgian houses and towers, its picturesque port, the impressive Cathedral of Saint-Finbarr, the Shandon church, and the small "Butter Exchange" craft center where visitors can find porcelain, jewellery, and knitwear. Thrillseekers should definitely not miss the visit to the town's former prison, Cork City Goal, which has been converted into a museum. Today, with its 140,000 inhabitants, including 25,000 students, Cork is a resolutely modern town with a lively cultural scene. Designated as the "European Capital of Culture" for 2005, its film festival and its jazz music event in October are well worth a visit.
© Cork Guide
© Irish Tourism
Saint Patrick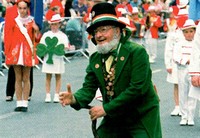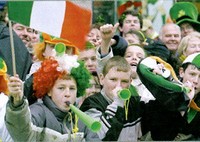 Saint Patrick is the patron saint of the Irish. According to popular legend, Patrick settled in Ireland, where he became fervently religious. As a Bishop, he worked hard to bring Catholicism to his country. In his sermons, he used the image of a clover to explain the concept of the Holy Trinity: the Father, the Son and the Holy Spirit. Today, the clover is often used in celebration of Saint Patrick, but first and foremost it has become Ireland's national symbol. The "leprechauns" are another symbol of Saint Patrick, with their name being taken from the Irish word "lechorpan" which means "little fellow" and refers to a sort of mysterious elf-like creature, with a red and white beard and hair, and pointed ears. Often dressed in green, and wearing a top hat, these mysterious little people are said to be shrewd and mischievous, bringing good fortune wherever they go. Saint Patrick's Day is celebrated each year on March 17, the day of his death. To mark the occasion, the Irish organize street parades, eat, and drink plenty of beer and above all whisky!
© Irish Tourism
James Joyce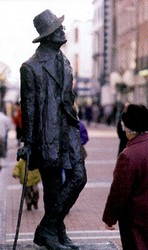 Born in Dublin in 1882, the great Irish writer James Joyce is today commemorated throughout Ireland. Beginning his studies in a Jesuit school before moving on to University College in Dublin, James Joyce studied languages and philosophy. In 1902, he travelled to France and later set up home with his wife in Trieste, Italy, where he taught English. In 1912 he undertook a short stay (his last) in Ireland, where he attempted to publish his first book, Dubliners. He finally succeeded in 1914. The following years proved to be somewhat more fruitful, with the publication of a play, Exiles, and a novel, Portrait of the Artist as a Young Man, which established his reputation. His fame continued to grow with Ulysses, published in 1922, and considered to be a particularly innovative work. A great traveller, James Joyce travelled throughout Germany, Switzerland and France, where he set up home in 1939 when he published Finnegan's Wake, his last work published before his death.
Statue of James Joyce, Dublin © Irish Tourism
Did you know?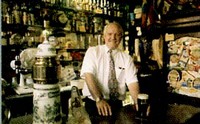 Pubs
Who can resist a visit to a genuine Irish pub, where you can enjoy a delicious glass of beer! Indeed, there are so many of them that you can hardly miss them. Irish pubs are well known for their warm welcome, unless you are a smoker. Following a law dating from 2004, it is now illegal to smoke in workplaces and in pubs in Ireland.
If there is one sport which is truly synonymous with Irish identity, it has to be hurling. Hurling is played on horseback with a leather ball called a "sliotar" and a stick known as a "caman". It is the oldest field sport in Europe.
Are you a fan of U2, who have taken concert venues by storm with their inimitable guitar music? These four Irishmen, who have continued to work together since they first started out in 1978, and have today become huge international stars.
You might also want to read