Accession to the Council of Europe : 2003
Area: 88,361 km²
Population: 7.15 million inhabitants (2014)
Capital: Belgrade (Beograd)
Official language: Serbian
Official currency: Dinar (CSD)
Government type: Parliamentary Republic
Head of State: Aleksandar Vučić re-elected on 3 April 2022
Head of Government: Ana Brnabić since 29 June 2017
International code: +381
National holiday: February 15
History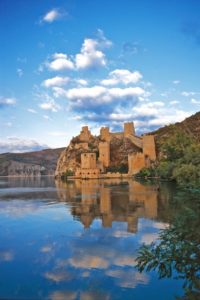 From 500, the south slavic tribes were established in the active regions of Danube in the Adriatic Sea. By the end of the 4th century, the evangelisation of the Mount Athos region by the Greek monks Cyrille and Methode created a Cyrillic language. The first Serbian country was founded in 845 by Prince Vlastimir, which was established in Rascie until the 12th century. The same pattern occured in southern and oriental Serbia, in Kosovo-Metohija and Montenegro respectively. In 1077, Vladimir ler Vojisavljevic created the Kingdom of Zeta, where Montenegro is situated. After his death, a clash between princes dismembered the Kingdom, which facilitated tbe conquest of Stefan Nemanja, the Serbian king of Rascie, from 1169 to 1196. His successors extended the country's territorial borders to Vardar and Danube. 

Picture : Golubac fortress © National Tourism Organisation of Serbia
Text: CIA World Factbook
1331-1355 : The Golden Age of Serbia under the reign of Dusan the Great, who was crowned the Emperor of Serbia and Greece in 1346, integrating Macedonia and Thessaly into Serbia.
June 28 1389 : Defeat of the army of Prince Lazare by the Turks in the plain of Kosovo. Serbia begins to lose territory to the Turks.
End of the 14th century : The Crnojevic dynasty creates an autonomous country in Montenegro, but it was conquered by the Turks in 1496. 
1521 : The fall of Belgrade, a victory for the Turks. The Serbians were attacked in Pec Patriarchate. 
1669 : During the Kandiskij wars, Montenegro becomes a Turkish vassal, in exchange for political liberty.
1690 : Huge migration of the Serbians to the Austrian Voivodine, fleeing the Turkish violence.
1804 : First grand Serbian revolt against the Turks, led by Karageorges (George the Black).
1830 : Serbia becomes autonomous, but under the suzerainty of the Sultan in Istanbul. 
1878 : Serbia and Montenegro become independent as a result of the Berlin Congress.
June 28 1914 : Assassination of the Archduke Ferdinand and his wife Sophie in Sarajevo by the Serbian Gavrilo Princip. Austria-Hungary declares war on Serbia. Beginning of World War I.
December 1918 : Serbia and Montenegro are integrated into the Kingdom Serbs, Croats, and Slovens.
1929 : This kingdom becomes the Kingdom of Yugoslavia under King Alexandre Karađorđević
March 27 1941 : Following a military coup in Belgrade against the regent Paul. Serbia became a quisling country and Montenegro was occupied by the Italians. 
1945 : Tito creates the Socialist Federative Republic of Yugoslavia. Serbia and Montenegro become two of the six republics.
1989 : Milošević, President of the Serbian Republic, nullifies the autonomy of Voïvodine and Kosovo-Metohija.
1991 : Independence of Slovenia, Croatia,and Macedonia. 
April 27, 1992 : The Federal Republic of Yugoslavia is created with Serbia and Montenegro.
May 1992 : Resolution 757 of the United Nations proclaims an embargo against Yugoslavia.
March-April 1999 : NATO-led bombardments of Yugoslavia.
Febrary 4 2003 : Confederal Union between the Republic of Serbia and Montenegro. 
2009 : On December 22, Serbia files its demand to join the EU.
March 2011: The European Council confirms Serbia as a candidate country.
Belgrade
Competitive Edge
Did you know?
You might also want to read