Acession to the European Council : 2001
Area : 29,743 km²
Population : 2.98 million inhabitants (2014)
Capital : Yerevan
Official language : Armenian
Government type : Republic
Head of State : Armen Sarkissian, President, elected on Mars 2, 2018.
Head of Government : Nikol PASHINYAN, Prime Minister since 8 th Mai 2018
Official currency : Dram (AMD)
International code : +374
National holiday : September 21
History
Yerevan
Architecture
Did you know ?
You might also want to read
History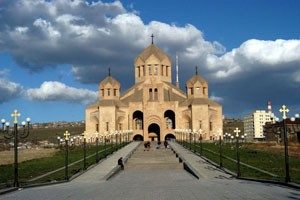 Converted to Christianity in the late third century AD, Armenia has a long history characterized by the constant threat of invasion by foreign powers, including the Greeks, Romans, Persians, Byzantines, Mongols, Arabs, Ottomans, and Russians. As a result, there have been many struggles for power in Armenia over the centuries, especially between the Ottoman and Persian Empires. As Armenia does not have access to the sea, relations with its neighbors remain unstable. Relations with Turkey are uneasy because the events of 1915, and relations with Azerbaijan are similarly uncertain.
© www.yerevan.am
878 : The war between Russia and Turkey for control over Armenia comes to an end with the signing of the Treaty of Berlin.
1894-1896 : Abdul Hamid organizes the Armenian massacre, which resulted in the death of 300, 000 Armenians. This tragic event led to a mass exodus from Armenia.
1915-1918 : Forced Islamization, confiscations of land, and mass genocide result in the death of over 1.5 million Armenians during the Genocide of 1915.
1918-1920 : Armenian declares its independence with the singing of the Constitution of the Republic of Armenia.
1920 : Under the Treaty of Sèvres, President Wilson granted the Armenian Republic a large portion of land. However, in September, Armenia was invaded by the Turkish army. In December, the two parties struck an accord. Unfortunately, Armenia was soon after invaded by the Red Army, ultimately becoming a part of the Soviet Bloc.
1921 : The borders of Transcaucasia are officially established under the Treaty of Kars between Turkey and Russia. Armenia loses some territory.
1922-1991 : Armenia becomes a part of the USSR.
September 9, 1988 : Despite a large Soviet military presence, 100,000 protesters in the Armenia capital of Yerevan swear loyalty to the tri-colored Armenian flag of Independence.
1990 : The Armenian National Movement wins the national elections. In August, the Parliament adopts the Declaration of Independence.
September 21, 1991 : By national referendum, Armenia declares its independence.
16 octobre 1991 : Levon Ter Petrossian becomes the first president of Armenia, elected by universal suffrage.
March 2, 1992 : Armenia joins the United Nations.
May 1994 : A cease-fire is signed between Armenia and Karabakh.
May 1995 : A new constitution is adopted.
1996 : Partnership and Cooperation Agreements with EU.
March 1998 : M. Robert Kotcharian becomes the second president of the Republic.
2001 : Accession to the Council of Europe. France officially recognizes the Armenian Genocide of 1915.
2004 : Armenia benefits from the European Neighbourhood policy.
2008 : Accession to the International Organisation of La Francophonie, as an associated State.
Yerevan
Architecture
Did you know ?
You might also want to read