Adhesion to the Council of Europe : 1995
Area : 25 713 km2
Population : 2.07 million inhabitants (2014)
Capital : Skopje
Official language : Macedonian
Régime politique : Parliamentary democracy
Head of State: Stevo Pendarovski, President since 12th May 2019
Head of Government : Dimitar Kovacevski elected as Prime Minister on 16 January 2022
Official currency : Denar (MKD)
International code : + 389
National holiday : August 2
History
Skopje
Ohrid, World Heritage
Pianist Simon Trpceski
Did you know?
You might also like to read
History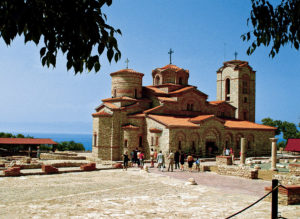 From the end of the Middle Ages, as with the rest of the Balkans, Macedonia was under the domination of the Ottoman Empire. However, due to rising nationalism during the 19th century, the Ottoman Empire was unable to maintain control of the region, which later led to the disintegration of the Empire. 
Saint Clément University, 9th century, Ohrid
© Macedonian Minister of Foreign Affairs, Director of Public Diplomacy
1912-1913 : First Balkan War: Greece, Bulgaria, and Serbia unite to free Macedonia from the Ottoman Empire.
1913 : Conflicts arise between the three states over Macedonian territory. Greece and Serbia received large amounts of territory, while Bulgaria obtained only a small portion of the country.
1944 : During WWII, Yugoslavia was dismembered. However, the Yugoslavian government under Tito decided to incorporate Macedonia into the Yugoslavian bloc.
1946 : At the time of the proclamation of the Socialist Federal Republic of Yugoslavia, Macedonia became one of the six republics of the Yugoslavian state. From the start, Macedonia had extremely repressive social policies in regards to their Albanian, Turkish, Greek, Serbian, and Bulgarian minorities.
End of the 60's : Tension rises between the several nationalities of Macedonia, especially against the Albanians, who had gained much autonomy. 
1980 : After the death of Josip Tito, Macedonia followed the example of the other republics, demonstrating against the federal government that was predominantly Serbian.
End of the 80's : In response to the new discriminatory laws, Albanians began to demonstrate against the government. The communist government then redrafted the constitution, declaring the Republic as a State of Macedonians, omitting the several minorities of the state.
June 1991 : Croatia and Slovenia declare their independence from Yugoslavia, and are fully recognized by the international community.
September 8 1991 : Macedonia held a national referendum for independence, with 95% of the population voting for a independent state of Macedonia.
October 1991 : Macedonia proclaims its independence from Yugoslavia and becomes the Republic of Macedonia. However, it is recognized as the Former Yugoslav Republic of Macedonia (FYRoM).
1993 : Accession to the United Nations. 
2001 : Signing of the Stabilisation and Association Agreement with the European Union.
2004 : The Republic of Macedonia becomes a candidate for accession to the European Union. The Stabilisation and Association Agreement enters into force.
2005 : The European Council gives the Republic of Macedonia official candidate country status, but does not open the accession negotiations due to a conflict with Greece about the name of the country (that also refers to a region in Greece)
2020: ministers for European affairs gave their political agreement to the opening of accession negotiations with the Republic of North Macedonia.
2020 North Macedonia became the 30th member of the NATO.
Skopje
Ohrid, World Heritage
Pianist Simon Trpceski
Did you know?
You might also like to read