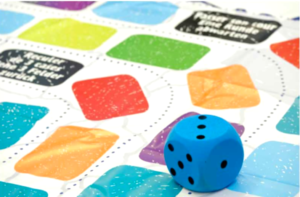 In order to discover the European Union differently, in a playful and interactive way, the CIIE offers you the game "Eurodéfi". 
Composed of a giant board, a dice, pieces and of more than 600 questions in English and/or French, this game enables a school class to deepen its knowledge about the European Union and its member states.
Different topics are addressed: history-geography, monuments and symbols, personalities, gastronomy, the European Union etc. This giant Game of Goose allows pupils to discover the cultural diversity of the member states of the European Union by having lots of fun. By using various types of questions such as photo quizzes, multiple choice questions or questions with hints, the game can be played from 10 years old to adulthood.
"Eurodéfi" can be borrowed at the CIIE or played within our facilities in the Lieu d'Europe in Strasbourg.
Target group: primary and secondary schools
Location: premises of the CIIE (visitors' entrance: 8 rue Boecklin, 67000 Strasbourg) or in schools located in Alsace (equipment loan only)
Duration: approx. 1.5 hours (length adaptable)
Languages: English, French, French/English
Necessary equipement: none
Cost: Free of charge
Reservation: fill in the following form
For further information, please contact the CIIE: +33 (03) 88 15 70 80.