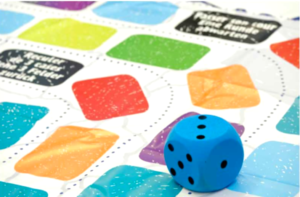 Discover the EU's cultural diversity and have fun with the "Eurodéfi" game. Composed of a giant board game, a dice, pieces, and more than 300 questions, this game allows pupils to deepen their knowledge about the EU and its Member States while playing the game.
Following a brief introduction about the EU, participants are divided into several teams and answer different questions about history and geography, monuments, symbols, personalities, cultures, languages and gastronomy to win the game.
There are two levels of difficulty to reach a wider audience.
Target group: 13+
Location: premises of the CIIE (visitors' entrance: 8 rue Boecklin, 67000 Strasbourg)
Duration: approx. 1-1.5 hours
Number of participants: minimum : 10 – maximum : 30
Languages: English. The game is also available in German and French. Language requirement: B2 (see Common Reference Levels)
Required equipment: none
Cost: free of charge
Reservation: fill in the online form below
Please note: The Lieu d'Europe will be closed for renovation and expansion works until the end of December 2023. During this period, it will not be possible to welcome groups in our premises. Under certain circumstances, sessions might be organised outside the CIIE premises (depending on the possibilities of the partner organisations).
>For further information, please contact the CIIE: +33 (0)3 88 15 70 80.