The Official Languages of the European Union:
As an international organisation, the EU has the biggest number of official languages.

The EU has 24 official working languages that are are:
Bulgarian, Croatian, Czech, Danish, Dutch, English, Estonian, Finnish, French, German, Greek, Hungarian, Irish, Italian, Latvian, Lithuanian, Maltese, Polish, Portuguese, Romanian, Slovak, Slovenian, Spanish, Swedish.
The European institutions adopt legislations that apply to all European citizens. Before coming into force, the laws are translated into the 24 official languages to be understood by everyone.
It's worth mentioning that Brexit does not necessarily mean the disappearance of English as the official language of the Union. Whilst the United Kingdom was the only European country to introduce English as an official language upon accession, English is also an official language of two other European countries: Ireland and Malta, alongside the Irish and Maltese. However, both countries have chosen to introduce the latter as official EU languages.
Although the European Union has 24 official languages, mainly 3 are used as working languages in the European institutions: French, English, and German. These languages are used either indiscriminately, as in the Council or the Commission, or exclusively, for example, the ECB works only in English, or the European Court of Auditors works mainly in French. The decisions of the Court of Justice are rendered in the language of the case, while the deliberations are usually in French.
In the European Parliament, each Member can speak in one of the official languages. The speeches are simultaneously interpreted in the other languages. Interpreters serve as the voice of the 705 MEPs: they play a key role in ensuring effective communication in 24 languages. Plenary sessions of the European Parliament are always interpreted into 24 languages. However, with 552 possible combinations, it is not always easy to mobilize all the interpreters, especially when it comes to rare languages!
LEARNING FOREIGN LANGUAGES AT SCHOOL
In 2002, the European Union set itself the goal of ensuring that every European citizen from an early age has the opportunity to master at least two foreign languages in addition to their mother tongue.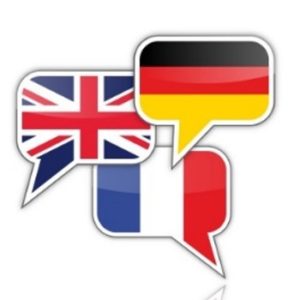 In non-English speaking countries, English is so far the most studied first foreign language in the EU it is even compulsory in several countries. Next come French, German, and Spanish. Russian is the most commonly taught non-official EU language (2.6%), especially in the Baltic States as well as in Slovakia and Bulgaria.
Belgium and Luxembourg are two special states as they have three official languages. Luxembourg is the only EU country to have English in the third position of the most frequently spoken foreign languages. During the whole period of schooling, students take courses in the three languages of the country: French, German, and Luxembourgish. In Belgium, most students study the languages of neighboring communities. French is the first foreign language for Dutch-speaking (Flanders) and German-speaking (east of Belgium) communities. On the other hand, Francophone communities (Brussels, Wallonia) learn Dutch as a first foreign language.