in the European district of Strasbourg

"Discovering Europe" is a scavenger hunt within the European district of Strasbourg conceived by the CIIE, and with the Lieu d'Europe as starting point.
Visitors' entrance: 8 rue Boecklin 67000 Strasbourg
Goal:
Discovering the European district of Strasbourg and its institutions with a scavenger hunt, composed of questions about the different institutions, European organisations and buildings.
How does it work?
When arriving at the Lieu d'Europe, we will give you:
A presentation booklet of the European district, a map and one copy of the game per group of 5 people. 3 different questionnaires – one blue, one red and one green – with different questions for each group.
An accompanying booklet with the answers to all the questions of the different questionnaires and additional information for (the) teacher(s). This booklet allows the teachers – during or following the tour – to give piece of information regarding the questions and additional information about the European institutions of Strasbourg.
To complete this scavenger hunt, you can choose additional options: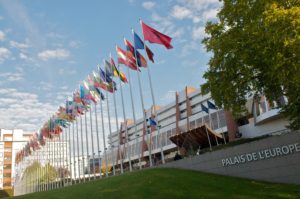 Option 1: Photo contest
For pupils aged 14+, we invite you to enhance the scavenger hunt by taking photos in the European quarter and hereby encourage the citizens to vote in the European elections of May 2019. You should post the pictures on Instagram with the # : #ciedstrasbourg #cettefoisjevote. The best pictures will be printed as postcards and published in May 2019.
Option 2 : Visiting the permanent exhibition and the documentation centre
For groups with less than 35 people, subject to availability: visit of the permanent exhibition of the Lieu d'Europe, which tells the story of Europe and Strasbourg, plus visit of the documentation centre.
Duration: 20 minutes 
Location: European quarter in Strasbourg
Duration: 1-1h30
Languages: English, French, French-English (bilingual questionnaire)
Required equipment: Pen, pencil…
Departure: from Monday to Friday from 9:00am. Last departure: 3:00pm.
Cost: Free of charge
Reservation request: please fill in the following form.
For further information, please contact the CIIE: +33 (0)3 88 15 70 80
Book the scavenger hunt "Discovering Europe" (in English)