School presentation for young people (13 and over)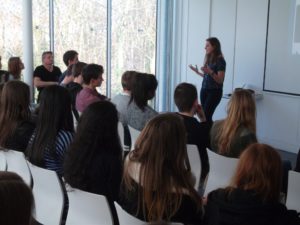 "Destination Europe" is a global and interactive presentation about European Union, made with digital tools adapted to the level of the class and syllabuses.
During the presentation, the speaker presents, through videos, questions and infographics, the symbols, history and functioning of the European Union as well as its role in our daily lives.
At the end of the presentation, each participant will receive further information on Europe and the European Union (maps, brochures etc.). The teacher will also receive a complete file with educational resources.
This presentation corresponds to syllabuses and makes the education on the European construction and institutional, political and economic challenges easier, with up-to-date and adapted tools.
Target group: from 13 years old
Location: premises of the CIIE (visitors' entrance: 8 rue Boecklin, 67000 Strasbourg).
Duration: 1h30
Language: English
Cost: free of charge thanks to the CIIE's partners
Reservation request: please fill in the following form
For any additional information, please contact the CIIE: +33 (03) 88 15 70 80.
Book a "Destination Europe" presentation (in English)