Accession to the Council of Europe : 1996
Area : 17,075,400 km2
Population : 143,06 million inhabitants (2014)
Capital : Moscow
Official language : Russian
Predominant religion : Christian Orthodox, Muslim, Buddhist
Government type : Presidential Republic
Head of State : President Vladimir Poutin, since March 4th, 2012 
Head of Government : Prime Minister Dmitri Medvedev, since May 2012
Official currency : Ruble
International code : +7
National holiday : June 12
History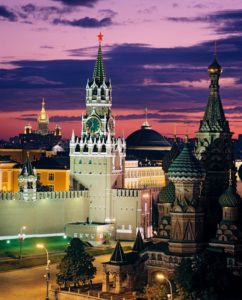 A nation of more than 17 million kilometers squared, Russia is the largest country in the world. The country shares borders with at least 17 other countries, and stretches over 9 time zones. 
The history of the country started in 862, when Rourik, the Viking king, began the first Russian dynasty in Novgorod. The country is also known for Ivan IV ("Ivan the Terrible"), Peter the Great, and Alexandre I, as well as for Lenin, Stalin, and Mikhail Gorbatchev.
The Kremlin, © RIA NOVOSTIText: CIA World Factbook
1904-1905 : Russo-Japanese War
1914-1918 :Russia enters WWI
1917 : October Revolution. The Soviet Workers, Soldiers, and Peasants Power is proclaimed.
1918 : Creation of the Russian federative Socialist Republic.
1922 : On December 30, the Russian Soviet Federative Socialist Republic, the SSR of Belarus, the Soviet Sovialist Republic of Ukraine, and the Soviet Federative Socialist Republic of Transcaucasie form the Soviet Union.
1941 : On June 22, Nazi Germany invades the USSR without a declaration of war. Within a few months, the German Army was successful in occupying a large part of the country, including the Baltics, Belarus, and a majority of Ukraine.
1945 : Allied victory marks the end of the Second World War.
1953 : Death of Stalin.
1955 : Signing of the Warsaw Pact between the USSR and 7 people's democraties. 
1961 : The first successful space launch occurs on April 12. Man officially enters outer space. 
1985 : Mikhaïl Gorbatchev launches his reconstruction plan of perestroïka.
1991 : Boris Eltsine (1931-2007) becomes the first President of the Federation of Russia after the fall of the Soviet Union. The dissolution of the USSR leads to the independence of 14 other former Soviet Republics.
1994 : Partnership and Co-operation Agreement with the EU. 
2000 : Vladimir Poutin is reelected as President of the Federation of Russia, as well as in 2004. 
2012 : Vladimir Poutine is reelected president of Russia with about 63% of the vote.
St. Petersburg
Space Race
Lake Baïkal
Did you know?
You might also want to read
Quellentexte:  Agence RIA NOVOSTI, Paris